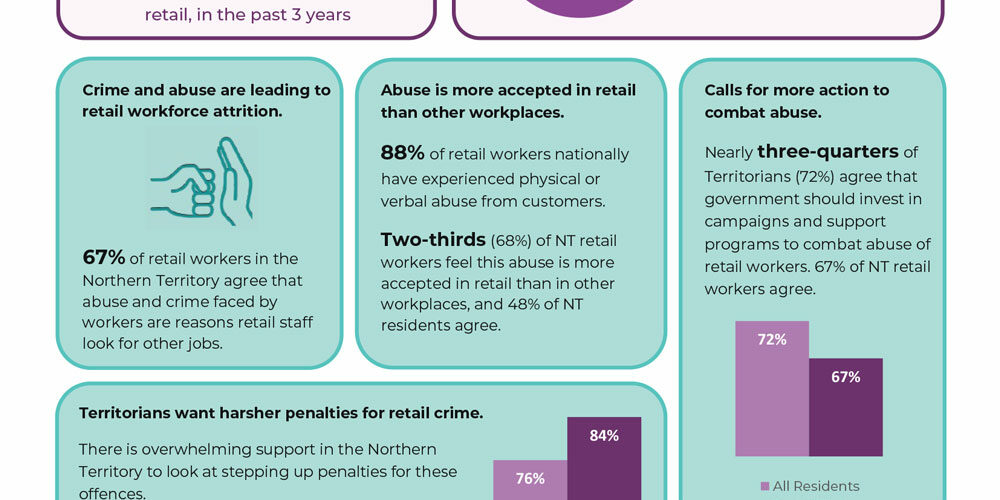 New research shows NT residents want more support for retail workers
New research released ahead of this Saturday's election shows Northern Territory residents want government to do more to support retail workers on the front line, who have been disproportionately affected by the COVID-19 pandemic.
Download the NT research factsheet
The research, conducted by the National Retail Association, shows Northern Territory residents are overwhelmingly supportive of government doing more to combat the workplace abuse and crime and poor health, faced by retail workers.
The Territory-wide public opinion research comes after the release a fortnight ago of the NRA's landmark report detailing the health and wellbeing struggles of Australia's second-largest workforce.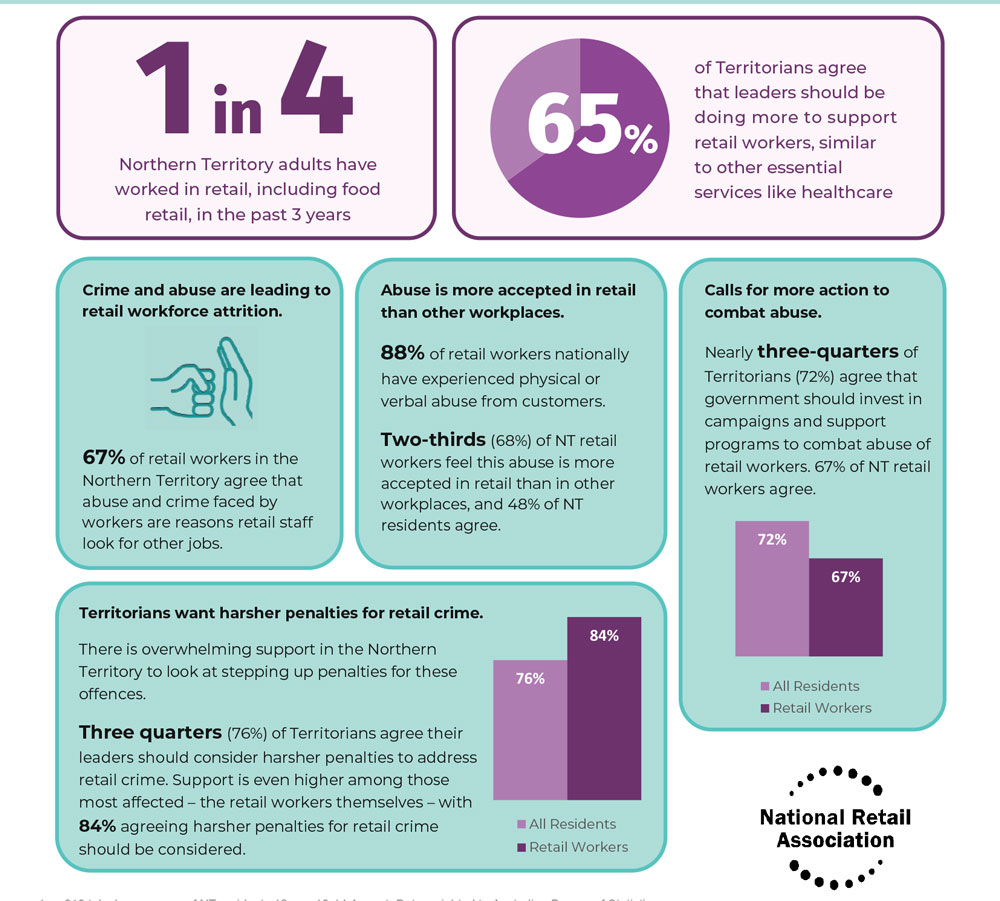 The NRA's Health and Wellbeing of Australian Retail Workers report revealed Australia's 1.5 million retail workers, over 18,000[1] of whom work in the Northern Territory, have been at the frontline of the COVID-19 pandemic, weathering increased risk, stress and abuse.
Download the NT research factsheet
The NRA is calling on Government to recognise retailers as an essential frontline service and implement a Retail Resilience Program to educate workers on how to cope during the pandemic, especially in the high-risk areas of mental health, smoking rates and exposure to violent crime at work.
CEO Dominique Lamb said it's clear Territorians want Government to do more, with the public opinion research finding two-thirds (65%) of Territorians agree that leaders should be doing more to support retail workers, similar to other essential services like healthcare.
"Serious issues like abuse, crime, aggression and lifestyle choices have been impacting the health and wellbeing of retail workers for many years, but these have now been further amplified by the pandemic," said Ms Lamb.
"These issues impact the lives of thousands of employees, business owners and retail support staff, as well as their families."
The Health and Wellbeing report found that 88% of retail workers nationally have experienced physical or verbal abuse from customers. The abuse directed towards retail workers is clearly not lost on Territory residents, with the research, conducted late last week, finding 72% agree that government should invest in campaigns or programs to combat this abuse.
Abuse and crime also leads to retail workforce attrition, with 67% of Northern Territory retail workers agreeing that these attacks and offences are reasons retail staff look for other jobs.
The impact of crime as a major election issue is also evidenced by the level of support in the Territory for harsher penalties for retail crime. 76% of Territorians agree their leaders should consider harsher penalties for retail crime. Support is even higher among those most affected – the retail workers themselves – 84% of whom want harsher penalties considered.
The stress and abuse faced by retail workers makes them even more vulnerable to negative lifestyle choices such as poor nutrition, lack of physical exercise and smoking.
According to the Australian Bureau of Statistics' latest figures[2], the Northern Territory has the highest smoking rates of anywhere in Australia, and those rates are no longer going down. The issue of high smoking rates is not lost on NT residents, with 58% aware the Territory tops the charts for smoking rates and the failure to address them.
More than half of NT residents (56%) agree that NT leaders should consider the legalisation of less harmful alternatives to cigarettes – such as smoke-free vaping products – to reduce smoking rates for smokers who don't quit.
Retail workers are also more at risk from poor nutrition, with a Department of Health study identifying that retail workers (those in retail and food service) were overrepresented for inadequate fruit and vegetable intake and inadequate exercise outside work.
59% of NT residents agree that government should invest in campaigns to improve the health and nutrition of retail workers.
"Given these high levels of support from Northern Territory residents, we are calling on the major political parties to outline today their commitments to addressing problems faced by these essential workers who play a major role in keeping our lives, and our economy, going during this crisis," Ms Lamb said.
Download the NT research factsheet




.
The public opinion research is representative of the views of Northern Territory residents, having been conducted by telephone on 13-14 August, among n=618 NT residents, with data weighted to Australian Bureau of Statistics figures to be representative of the NT population by age and gender to within a maximum margin of error of +/-3.3%.
---
[1]https://www.abs.gov.au/AUSSTATS/abs@.nsf/DetailsPage/6291.0.55.003May%202020?OpenDocument
[2] https://www.abs.gov.au/ausstats/abs@.nsf/Lookup/by%20Subject/4364.0.55.001~2017-18~Main%20Features~Key%20Findings~1