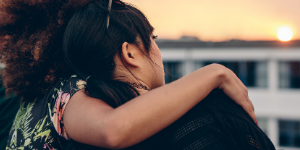 Queensland residents call for more support for retail workers
Queenslanders urge more wellbeing support for retail workers
A whopping 63 per cent of Queenslanders agree that more government support should be given to the state's retail workers.
The National Retail Association (NRA) has released state-wide research findings highlighting issues impacting the health and wellbeing of retail workers including customer abuse, crime, societal risk, domestic violence, smoking and nutrition.
Download the Queensland research factsheet
Queensland's retail sector is one of the state's biggest employers, with close to one in five of the state's adults having worked in the industry in the past three years.
NRA Director of Policy David Stout said that COVID-19 has brought the wellbeing of retail workers to the forefront of public attention and Queenslanders want more support for the sector's workforce.
"Retail workers have been at the coalface during the COVID-19 pandemic and our research has shown that close to two thirds of Queenslanders want more government support provided to them. The NRA would like to see retail workers classified as an essential service similar to healthcare," Mr Stout said.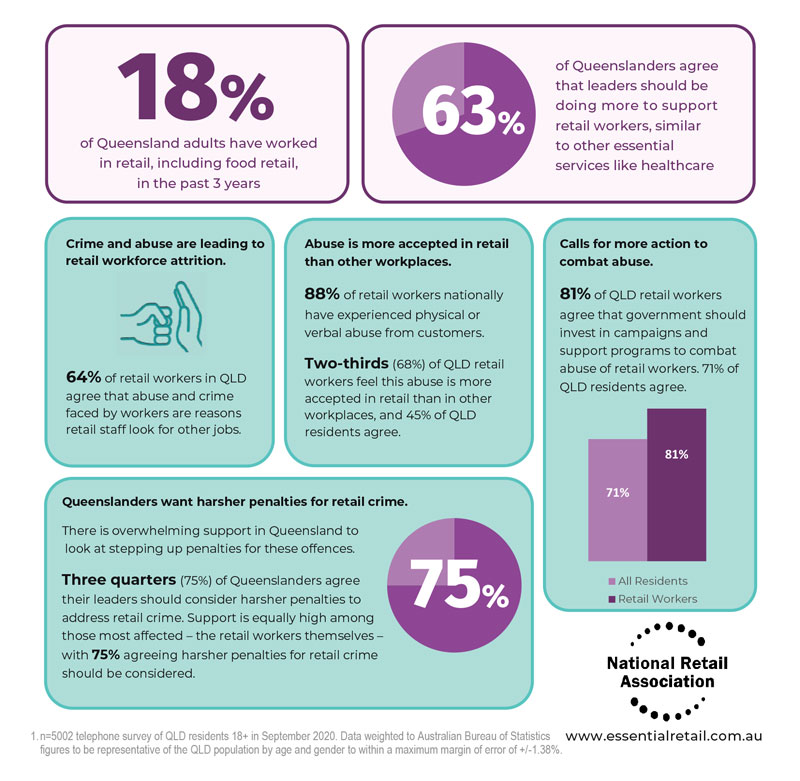 "Close to two-thirds of retail workers in Queensland agree that abuse and crime faced by workers are reasons retail staff look for other jobs, which is alarming in a sector with an already high staff turnover rate."
"During COVID-19 we have seen a 400 per cent increase in customer aggression and abuse directed at retail staff. More than four out of every five Queenslanders surveyed would like to see governments invest in campaigns to combat abuse of retail workers.
"Risks like retail crime, customer aggression and abuse are viewed differently than in other sectors. Many see customer aggression as simply 'part of the job,' and police response times to retail crime are often far longer than equivalent crimes at private residences."
"Three in four Queenslanders agree leaders should consider harsher penalties for retail crime."
The research also found that retail workers are more likely to make poor lifestyle choices such as smoking, poor nutrition and inadequate exercise than other cohorts.
"Over half of Queenslanders want leaders to consider new ways to reduce smoking rates, including the legalisation of less harmful alternatives like smoke-free vaping products, for smokers who can't quit using other available methods," Mr Stout said.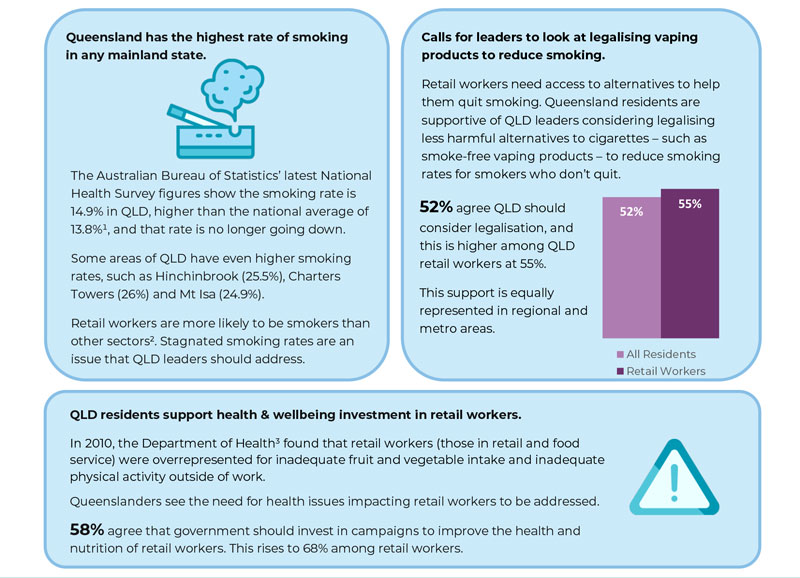 "More than half of those surveyed believe that smoke-free nicotine vaping should be legalised. Given Queensland has the highest rate of smoking of all the mainland states, it only makes sense to allow this less harmful product to be sold in retail shops who are already allowed to sell cigarettes."
Retail workers are also at a higher risk for poor nutrition and are over-represented for inadequate fruit and vegetable intake and inadequate exercise outside work.
"58 per cent of respondents agree the government should invest in campaigns to improve the health and nutrition of retail workers."
"Retail workers are essential workers who play a vital role in feeding and supplying the nation, and it is time they are given the support and recognition they deserve."
The NRA's Health and Wellbeing of Australian Retail Workers report revealed Australia's 1.5 million retail workers have been at the frontline of the COVID-19 pandemic, weathering increased risk, stress and abuse.
Download the national policy paper
The research also revealed important findings across sampled Queensland federal electorates: Dickson, Lilley, Longman and Petrie.

.
.
Data from an n=5002 telephone survey of QLD residents 18+ in September 2020. Data weighted to Australian Bureau of Statistics figures to be representative of the QLD population by age and gender to within a maximum margin of error of +/-1.38%.
---